Luckily, upon retirement from Disney, he started painting oils of the characters he grew to love, with a richness unavailable in the comic books. By an arrangement with the Disney people he was allowed to paint one or two per year.
His oils currently run into the high 6 figures and his limited edition lithographs, which we bought on Main Street in WDW for a couple of Franklins for the big ones and one Franklin for the little ones now clock--almost immediately after his death--in somewhere in the mid-four figures and out of the range which I can justify a purchase at this point in my life. I am really lucky to have gotten a few. Of the ones that are not packed away from our move two years ago, here are two: Halloween in Duckburg and Afoul of the Flying Dutchman.
Given that I am something of a snot in matters of proper attire for civilized gentlemen, I also like the 1930s illustrations in Esquire Magazine by a guy named Laurence Fellows. I might not don homburg or bowler, but I try to dress like this. Well, not in a brown suit, but you get the idea.
Another artist I like, and whom I mentioned briefly is Andras Kaldor, who does gorgeous freehand architectural renderings of
great buildings throughout the world. I managed to score a set of serigraphs at a MFA thing in Boston in 2000. I have a soft spot for architecture--as we discussed last class--and these prints are satisfying all around.
Posted by Joke at 6:17 PM

Not The FPM


The assignment has been issued. Photograph and post one's artwork is the task for Friday's Photo Meme. BB will explain this is not a meme, but then again, this isn't Friday, so we must learn to take the rough with the smooth.

Here we have the 1st of 3 lithographs by a guy named Shin Yoshikawa. I could only find 2 of the 3 I own, but then again it took me since Friday to find the camera-to-computer wire thingy, so don't be an ingrate. The car in question is a 1957 Alfa Romeo Spider Veloce, and, should you be lucky enough to find one, a mint example will set you back $100K and even an average one will run well into the mid -fives, so be grateful that the super-duper Artist's Proof series is a mere trace amount of that.


Under that light, this other litho is an outright steal. The astute among the 193 of you will notice this car is the one I highlighted in my entry on the car museum thing. You don't want to know what one of these will set you back. Hell, you might not even want to know what one of these would have set you back 5 years ago when the last one showed up at auction. (Well, maybe you do.)


It is at this point, natch, when Blogger does its impression of Balaam's ass and refuses to upload any more photos, prior to choking. Which is not exactly what Balaam's ass did, but then again, Balaam got to smack the recalcitrant beast and I have no such recourse. So, rather than letting Blogger "puke a rod through the engine block" I figured I'd quit while I was ahead, and live to blog another day...or at least put the rest of this entry into separate posts.

-Joke


Posted by Joke at 11:40 AM

Saturday, September 24, 2005
On the matter of design

This, naturally, is Blackbird's damn fault. I see that Badge jumped on her FPM (Friday Photo Meme) thing and since this can only be clicked BBwards and no further, the fault lies with her. I have no idea of where the wire thingy to connect the camera to the laptop went, so in lieu of that, I offer a wildly nonvisual ramble.

I am, of course, a sucker for design. It's impossible to be a fan of classic Italian sports cars without being a sucker for design. In my case this line runs to automotive and industrial/domestic design on one side, and to architecture on the other. Thus, I sit agape and marvel at the gorgeous lines of even the car that sucks, a timeless design* by the late, legendary Battista Pininfarina and wonderfully updated by his son Sergio.

Most of the collectible sports cars are not cars whose designs (and costs) made them the darlings of the gold-chain crowd. The Ferrari Testarossa, the 365GT4 and 412i languishe at auctions while the cheaper 246 Dino, 275GTB and 328GTS siblings all continue to show appreciation in value. The same applies to Maseratis and Alfa Romeos and Lancias.

Not all great design is evocatively beautiful. Some just presses my whimsy button, which is why I love Michael Graves stuff, in spite of/because of the fact he has a very successful line at Target. MG's stuff has that sort of whimsical elegance that can both stand out or recede quietly. I love it, and more often than not, I am dazzled by the intelligence of its design as I am smiling at the silly cleverness of the spatula, alarm clock or spice mill.

More than anything else, good design has an obsessive fondness for the end-user. I was reading a review of an electronic something or other in Home Theater magazine when I was struck by the following: "This looks like it was designed by people who have to use it every day." That sentiment dovetails with something Sergio Pininfarina said in an interview 5-6 years ago, to the effect he designs cars not only to please their owner, but to please others who may see it. I suppose this explains my casual observation that Porsche or BMW drivers suffer more eye-daggers than Ferrari or Alfa drivers, even though the formers are relatively more affordable than the latters.

At its height, great design is a beacon, a white-hot pinpoint where beauty and intelligence meet and intersect for a one-night stand that reverberates through the visual history of a place. For my money, the apex of this sort of experience is in Vicenza, Italy. This is where Andrea Palladio did most of his greatest work. It's amazing when you consider most of this great work consisted of private residences and not gummint buildings or cathedrals or anything like that (although he did those as well). Yes, sure, granted, these were palatial digs--whence springs the term palladian--but the fact is that tour groups were not traipsing through these places for centuries and STILL Palladio gets universally acknowledged as a big deal architect.

Like most things I love, I came to Palladio purely by accident. I was opening stuff after one Christmas when I ripped open a set of Andras Kaldor architectural serigraphs of the great Opera Houses & Theatres of Europe. Included among these was Palladio's Teatro Olimpico and I was smitten. Balanced, clean, classical lines made me feel like a groupie with an all-access backstage pass at Live-Aid. Naturally, I needed to dig further and that, brings us here today.

Maybe I'll rummage for the wire thingy and post stuff.

-Joke

* It was, in fact, his very last design before he died and his son Sergio took over the company.


Posted by Joke at 2:55 PM

Yet another update

The car that sucks? Still sucks. However, it has begun to suck somewhat less. Not a lot less, but marginally less. I just got it back from the Italo-Jamaican shop and with a vigorous applicationof cash ($1500!) it is (mechanically, anyway) saleable. So NOS and self spent yesterday afternoon washing it, as per established procedure, which took even longer than you'd think because it seems this poor beast hadn't been treated to so much as a gas station's drive-through car wash in months, quite possibly years. I had to scrape off some weird gum/sap/wax thing* that had landed on the car with a plastic ice scraper.

Waxing was a pretty easy affair after that, but by then I had "lost the light" under which I had wished to take pictures** of the exterior of the car for reBaying. I still have to attend to the woefully neglected interior.

We shall see.

-Joke

* It was a clear tan/beige thing--think of very faded ambergris, in globs with what looked like reddish glitter suspended. When scraping it dry, it was a VERY stubborn and gummy thing. when I scraped in the wet it was more of a REALLY stiff wax. Very weird.

** I minored in film. Don't ask.


Posted by Joke at 6:44 AM

Thursday, September 22, 2005
No, no, no. (part 2)


Much has been written about my favorite adult beverage: The Bloody Mary.

When I consider the purchase of a given book of cocktails, I invariably flip ahead to the page containing the Bloody Mary and peruse the recipe. 99% of all cocktail tomes fail this in a spectacularly miserable fashion. The thing of it is that any book which lists "lemon" (as opposed to "lime") as the primary citrus component is wrong.

Mind you, I still buy some of those books because it has other, compelling reasons to
compensate for the abysmal Bloody Mary recipe, and I am thinking specifically of David Wondrich's otherwise stellar Esquire Drinks. But, so far, the only book I have found in current circulation that has the proper recipe is the Williams-Sonoma Bar Guide which is as good as it gets if your cocktail/bar book collection may not exceeed "one." (Photo to follow, the image upload thingy is not cooperating)

Here is the correct recipe (and let's not have any more of this again) is as follows:

1 oz vodka (plain or "peppered" if you must; for this I prefer Finlandia)
3 oz tomato juice (V-8 or Clamato are acceptable, again, also if you must)
1 oz lime juice (save the wedge)
2 dashes Worcestershire sauce (Lea & Perrins for me, thanks)
3 drops hot sauce (Tabasco®, ideally!)
3 turns of freshly ground black pepper
1 three-fingered pinch of salt

1- Add lime juice and salt to cocktail pitcher, stir to dissolve--this step is key.
2- Add cracked (to chill rapidly) ice and remaining ingredients, stir vigorously
3- Strain into an old-fashioned glass over FRESH uncracked (to control dilution) ice
4- Garnish with lime wedge and a rib of celery (a celery stalk is the whole thing!)

OPTIONS: Using celery salt in lieu of regular, adding freshly--and finely--grated horseradish, and/or rimming the glass with seasoned salt.

-Joke


Posted by Joke at 8:11 AM

Surprise? What Surprise?

Last night we got a call from one of TFBIM's pals with the good news she is expecting and has been for some time. TFBIM and her discussed the heartburn, this and that and the other thing; finally the sonogram/ultrasound thing came up. To cut the story short, she said they didn't want to know if the baby would be a boy or a girl. The reason? Get this..."we want to be surprised."

Now, we life in a pluralist society and people ought be free to hold whatever views they wish for whatever reasons they wish to hold them. That's fine. But "to be surprised?"

TFBIM knows me well enough by now not to hand over the phone to me because the conversation would run--as Bob Newhart might say--a little something like this:

Me: Are you going to find out if it's a boy or a girl?
Her: No, we want to be surprised.
Me: What do you mean "surprised?" There's only two things it could be. If you had a boy, would you really be surprised?
Her: Er, no.
Me: If you had a girl, would that be a surprise?
Her: Um...I guess not?
Me: Now, if you were expecting either a boy or a girl, but, instead, you birthed a panda bear, that would be surprise. So how is not knowing "a surprise?" If you were having triplets, you'd want to know, right?
Her: Yeah.
Me: Why wouldn't you want to be surprised then?

As you can see, my wife does well in never handing the phone over to have me discuss things with her friends, especially the ones I consider mentally negligible.

-Joke


Posted by Joke at 7:55 AM

Wednesday, September 21, 2005
The Aftermath

Dear People of The Internet,

All is fine. Minor power loss, a LOT of debris in the yard (i.e., Katrina leftovers that got swirled about a goodish bit) and loads of rain. This time we were mo' betta prepared and we actually put up the shutters and took preparations seriously. The car that sucks survived by virtue of being shuttered up at the Italo-Jamaican's shop, the car that doesn't suck survived by virtue of being in a garage in the pastoral suburbs of NYC, and the car that is glorious stayed in the garage. The minivan was left outside, since any hurricane abuse would be imperceptible.

NOS is now 8 days behind school and NTS is 12 days behind.

Power came back up and illicit plumbery held.

-Joke


Posted by Joke at 8:58 PM

Sunday, September 18, 2005
Illicit Plumbery

Well, the plumbing issue has been attended to, and it only took a mere 5 hours.

Last night we called our Emergency Plumber, a regional plumbing firm that will come at any hour of any day and charge accordingly (although it is less than the national companies charge, it's still the sort of rates a respectable highwayman might expect from an average job). They were not able to alleviate the discomfort our medieval plumbing was suffering. The guy explained why not (it was 10pm, he didn't have the disgronifier, the googleplex remodulator, etc.) and the job was a Very Big Job. In fact, just getting us patched up and good-to-go-for-now was, itself, a Big Job. He gave us two official estimates, one for the Very Big Job (which would have had me soiling myself, except we had that plumbing issue) and for the Merely Big Job. He also told me that, if I wanted to, I should call the office and schedule whichever thing I needed/wanted done. So I called, and the Customer Service Rep said they would have someone out to do the Big Job "Tuesday or Wednesday...okay, Thursday at worst." I asked why the delay and I was informed my little suburban enclave in paradise requires a series of permits for exterior plumbing work, but hey don't worry, that permit-filling thing is included in the highwayperson's estimate.

So Mr. Plumber Guy hears all this and looks both ways, the way that they do in cartoons when you're about to hear something juicy in sotto voce and says that IF

1- I am willing to pay cash
2- I need no receipt, and
3- Pay for any fines as a result of doing this permit-free

He'll come on Sunday (his day off) and do it for 1/3 the price.

So I weigh my options: I can wait and wait and wait--unplumbed, undrained and unflushed--for the local bureaucracy to grant me the privilige of paying a ridiculous sum to cease being unplumbed, undrained and unflushed OR I can go with illicit plumbery, run to the ATM, and be up and running by the next day.

The thing was a raving no-brainer. I told Mr. Plumber to array himself in Ninja Plumber attire, and arrive in Full Stealth Mode, the stack of Franklins will be there awaiting his arrival. Which he did, save he arrived late, I assume, from another episode of Illicit Plumbery. He quickly got to work, occasionally pointing out the degenerate nature of my house's pipes* and fittings. After much digging, hacking, sawing, showing me crumbling ferrous bits that days ago had provided safe passage to water from my home, speaking to me in Plumbery Jargon** such as my needing "a ten 3/45 maybe a twelve 3/45," cursing and spitting in a very professional manner, and having me flush the toilet and filling tubs and sinks...the job was done.

I gave him the florins, he gave me a knowing wink-and-nod, looked both ways and disappeared into what would have been the fog if this were London and not a tony suburban enclave in the semi-tropical paradise that is SoFla.

-Joke

P.S. The catalyst for ALL this was a fuzzy hair scrunchy that was somehow flushed.

* It seems safe to say half of my pipes are weakened, rust-colored, cylindrical colanders.
** You'll be pleased to note I nodded sagely, as if I were a man who relishes days spent at Home Depot instead of, say, Alan Flusser's or Williams-Sonoma.


Posted by Joke at 5:43 PM

How To Make Women Swoon

Well, maybe not swoon, but at least look upon life in a more benevolent way. I realize most of the women who traipse though here have no need of my blog on matters startorial, so I figured I'd do the distaff side a favor:

www.hotelreginavintage.com

-Joke


Posted by Joke at 4:47 PM

In which Poppy swerves into an important truth

Poppy, in her other blog, nails a certain societal something. As we all know, the 1960s* were one of those times when the veil of society's temple was rent in twain. Up until then there was suprising little difference between the attitudes, behaviors and outlooks of all the groups A and groups B.

Poppy writes:



Now, for foodies, the 1960s are the crucially important decade. The 1960s were the decade in which Julia Child not only published Mastering the Art of French Cooking, but starred on television as "The French Chef." The sixties were also the decade where food faddism stopped being solely the territory of cranks like Gayelord Hauser and Adelle Davis and started to go a bit more mainstream. And most importantly, it was during the sixties that packaged convenience foods hoisted their flag over the American pantry, with the result that many Americans had no idea what fresh vegetables tasted like.


Ignoring the glories of what the written word can reach when processed by the likes of Poppy (of whom it may be safely said has been assiduously writing in prose for all her life and such diligence shows) the important bit is that for reasons which a nutritional sociologist would be required, Poppy is exactly right. One group of Americans decided to go that way on food, and another (and far larger) contingent decided to zoom headlong in the opposite direction, rushing in where angels fear to make dinner reservations.

It is indicative of the level to which society devolved that we have pancake mix. This product, in exchange for saving Americans the tedium of having to get out flour, sugar, baking powder and salt and--horror of horrors--measuring them, provides ingredients of unknown quality and assorted other additives which'd be the envy of an avid Scrabble devotee. The true convenience fetishist will buy frozen pancakes which in addition to the comestible alphabet soup of ingredients adds processes and ingredients that will allow such a product to survive life in the commercial freezer.

In my very own family, my very own sister (!) invited a large-ish group of us to dinner for a quiet birthday celebration (the actual party being on a Saturday). For dinner, the menu featured Shake 'n' Bake chicken, canned creamed corn and some kind of formerly boxed whipped potatoes. I can sort of cope if someone has this as a harried weeknight dinner. But for company? What alarmed me most is that most people were perfectly happy with this. In my family we have a phrase we utter only while in the presence of the Select Few: That's not food, that's groceries.

This way lies madness.

The destination paved with convenience is even furtheralong than where we are right now. Immediate gratification has trumped both sense and optimal gratification**. As a result we have inherited, not only the wind, but the physique of windbags. The mindset, more than the products which nurtured it, has given us a really, truly deranged and warped view of food and our relationship to it. So, being Americans, we tend to overreact. We have record rates of obesity and overweightedness (OK, so, like, that's a word now) and then when we are wallowing in despair someone says Fat's The Problem!

So fat goes. Normal people look at their intake and reasonably determine, that, ok, well, maybe we can put half the butter on this. Not so much oil there. No need to fry everything. Leaner protein. Then, of course, everything becomes low-fat and fat-free. Soon fat-free Twinkies and cookies litter the aisles. Somehow, the American shape becomes ever more spherical. The average American, long ago untethered from a sensible view of the edible, throws up his hands and wonders what went wrong with the Fat Free Nirvana.

Then someone else says Carbohydrates Are The Problem!

So carbohydrates go. Normal people look at their intake and reasonably determine, that, sure, a'ight, maybe we can put half the sugar on this. Not so much flour there. No need to sweeten everything. Less empty sugars. Then, of course, everything becomes low-carb and carb-free. Soon carb-free Twinkies and cookies litter the aisles. The American shape--suprise, surprise!--still becomes ever more spherical. The average American, being adrift from a sensible view of the edible (even worse than before), throws up his hands and wonders what went wrong with the Carb Free Nirvana.

Pretty soon, MARK MY WORDS, there will come a howl that Protein Is The Culprit.

The real villian, resting comfortably in our collective grassy knoll, is the crack-addictionlike dependence we have developed on convenience. On ease. On leisure. On not having to think or exert or making an effort. It shows up not only in what we put down our gullets***, but also on how we inform ourselves, interact with those with whom we disagree; it manifests itself corrosively in the films and TV shows we watch, what passes for the music to which we listen and the excuses for the books which we read, when we can be bothered to read.

Because, y'know, if it's worth having, it's worth instantly getting a shoddy, dubious facsimile .

-Joke

* The other was the 1910s. (I think we're due for something.)

** Few sentient humans will argue that a fresh made burger at home with halfway decent ingredients will taste leagues better than something rescued from under a heat lamp at the local Hamburger Hut--via the drive-thru, no less!--but most people can't be bothered, preferring to drive, to and from Hamburger Hut, for 20 minutes for something ranging from woeful to indifferent, than actually cooking for 10.

*** There are people who go shopping for food ONCE A MONTH. What the Hell can you eat that will survive a month?? Nothing fresh, that's for damned sure.


Posted by Joke at 10:39 AM

I caught it from Badger

Dear Diary,

One thing that always scares the snot out of me is when everything is going swimmingly. Why? Because life has taught me this is unsustainable. Work is going great, the kids are fine, our house is pretty, the cars are running swell then BAM!

Well, last night was a pretty solid BAM. I'll spare you the details but we're going to need some serious plumbing stuff done and possibly ALL of the plumbing redone in the house, definitely one bathroom has to be completely gutted and repiped and redone. And, in a totally unrelated event we will also need SERIOUS electrical work done, since we get blackouts (!) that cover, say, only 1/4 of the house. Did I mention Katrina made us get a new roof as well? Given that in SoFla 85% of the houses are one-story, this is a LOT of square footage of roof to do.

Did I mention I bought the car in NYC that didn't suck?

I blame this awful juju on the car that does suck.

-Joke


Posted by Joke at 6:55 AM

Saturday, September 17, 2005
The Car Museum Fundraiser Thing

People of the Internet,

I have just returned, more dog-assedly tired than when I left, from the Car Museum thing. The Car Museum is an astonishing place if you're the sort of person who considers cars something beyond a transportation appliance.

We saw Gary Cooper's Duesenberg, T.E. Lawrence's Rolls Royce, the first Benz sold in the USA (1901), the last Italian car to win at Indianapolis (Maserati, 1938), the first Ferrari ever to win a race (166 Spider, 1949), the Steve McQueen Porsche he raced at Sebring, the Ferrari Spider from the original The Thomas Crown Affair and a slew of other greats. Some cars were significant for reasons other than provenance: The last this, the first that, the oldest the other one. One of my perverse favorites was the LAST car ever built behind the Iron Curtain, a 1989 Trabant built in the former East Germany. This is proof--as if any were needed for the sentient--that socialism is incapable of sustaining itself: Take a bunch of Germans and build THIS lump o'crap. There was a 1950 VW Beetle next to the Trabant, which was a Millennium Falcon in comparison to the unfortunate Trabant. Only it was 39 years older.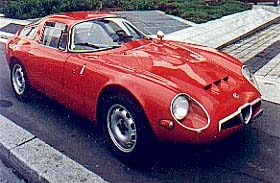 There were a few treats: Jim Kaser, the first Alfa Romeo dealer in the USA (former owner of the Lake Forest Sports Cars dealership) and ex-Alfa racer (he won at the 1964 Sebring 12 hours--a very big deal race, BTW--driving the very car on display) was there to give a talk to the Alfa Romeo geeks on the gorgeous and lovely and blindingly fast Alfa Romeo TZ. 10 years ago you could have bought one for about $40K, now it will cost you as much as a 4/3 condo on Park Avenue...if you can find it.

There were a couple of prewar Alfa Romeos--cars that sold for $12K back in 1934, when $12K was money--parked outside, which I thought was an excellent touch. We were told not to take any pix inside the museum but we figured since these were outside, it was OK, only it wasn't. At least I got to snap a bunch of the 1st car before being shooed off. (I acted contrite/inept and, therefore, evaded camera confiscation.)

The Charity was a good one: CapCURE, which seeks to raise awareness (and ducats) for curing prostate cancer, which kills about as many people as breast cancer but is one of the least funded cancers around. So that was good.

The lunch sucked, though. The best thing I can say about it is that it was, by virtue of rounding off, technically edible. To compensate, I stopped at Jimmy P's Butcher Shop for a bit of Kobe Beef. I think I earned it, dammit.

While we're at it, another thing that is rather wearying is driving lo-o-o-ong distances in a car that is pretty stiff and quite loud, especially after a heavy and pretty unremarkably flavor-free lunch. I don't mind doing a couple of hours in it, or doing some serious hauling around a racetrack or autocross. But five hours, starting at 6am when one is dog-ass tired, is taxing.

So that's it for now.

-Joke


Posted by Joke at 6:04 PM

So, you're, um wondering why...

...if I am dog-ass tired, I am still up at 2:xx a.m.?

The short answer is that I am not a normal person.

First, let me explain why I am dog-ass tired.

Tomorrow is one of THE highlights in the SoFla petrosexual calendar: The Collier Automotive Collection is having a fundraiser for some charity or another and I scored us a pair of tix. By way of background, Naples (FL) is the 5th most affluent city in the USA and was started by a guy named Barron Collier, a great pal of Henry Ford and Tom Edison. His sons, not really needing any cash to get through life quite comfortably thankyouverymuch, developed an affinity for the pursuits of gentlemen of leisure in the postwar world, including Big Deal Racing. They managed to hook up with a pal from Yale (Back when Yalies were far more interested in doing useful things) and went off racing to Le Mans a few times. The net result of all this is they amassed a colossal automotive collection* which is not open to the public. Infact this is such a rare treat, I'd go even if it was an event hosted by Noam Chomsky to raise money for Howard Dean's Low Carb Freeze Dried Pudding. Yes, the collection is THAT good.

Now, you can't just pull up to this--if you want to be taken serious in petrosexual circles, anyway--in your wife's minivan. You have to take your "good car" which strikes TFBIM as an odd descriptor sincethis is the car without power steering, power brakes, power windows, a really loud exhaust, verysnug seats, a synchronizer-free stick shift transmission and a suspension that'd rattle any fillings loose. Because there will be other cars going in caravan with you, and some of these are serious cars and you just can't bear to look like a schlep in a minivan in a parade of Maseratis, Ferraris, Lamborghinis and other etceterinis. At least I can't, wich explains my petrosexuality.

And you can't just take your good car out of the driveway or garage and just go, any more than TFBIM would go to a Poppy event without makeup. You have to get it all prettied up. As Blackbird well knows from having a similarly afflicted brother, this is A Complex Procedure, no mere carwash here, thanks.

Let me detail** for those of you who are not tribespersons, what the procedure entails. (To give Poppy a little frisson, I'll do this in the 2nd person)

You start by getting your car washing hose. This is different in many respects from the hose your spouse uses to water the azaleas, roses and other plants with names you confuse with those of Roman Empresses. You've gotten so tired of the disconnect/reconnect thing that you've actually bought a quick-connect coupler. In this case, you'd be using "the curly hose" which is a hose that coils up when you're done with it and makes storage (and hiding it from your covetous spouse) all that much easier. You also need a bucket, like the ones house painters use, clear, so you can detect if you have contaminated your soapy water with dirt. Which is bad.

You fill said bucket not-quite-halfway-up and then you pour in about 2 jiggers of your car wash detergent. If you did it bassackwards, you'd end up with a bucketful of bubbles...which is counterproductive, not the least of which is because your kids want to play with the bubbles now. Anyway the whole driveway area now smells like suntan lotion because the detergent isn't one of those cheapo brands you get at [insert whatever mass market retailer you are not boycotting], but rather something from a catalog(ue) and has been specially formulated for a certain type of paint.

Then you hose down your car (put your special hose's super-special NASA-grade nozzle on "mist") because the car mustbe wet when you start, lest you drag "unencapsulated dirt" all over your paint and cause "swirl marks" which are bad. You then don the sheepskin mitt, which sounds like something from the back pages of an old Frederick's of Hollywood (uh oh, there goes Google) catalog, but is actually the only way to properly apply soapy water to your car.

And you start lathering. The thing to do is start lathering a small section--beginning with the roof--and then, with your special hose's super-special NASA-grade nozzle on "fan," you rinse off the section you just lathered. Then you move to the next section. Then you get out the special undercarriage brush and get in inside the wheel wells. Then, of course, you get your special wheel brush (totally different brush, mind you) and clean your wheels. (If you are someone who only has taken your car through the car wash thingy at the gas station, your wheels are likely filthy, and possibly deteriorating from the corrosive effects of brake dust...you will probably need a wheel cleaner to do the job right)

You now need to dry the car. This requires a chamois (natural or synthetic) and you must be VERRRRRY careful you didn't miss a spot with the wash mitt, because you'll drag dirt around, creating fine scratches (i.e., "swirl marks" the car equivalent to wrinkles) on your paint. Now examine your paint. It should feel all smooth and slick even if it's dry. If it doesn't--it probably won't--you need to "clay" the paint. This requires a special clay and your bottle of detailing spray. You flatten the clay until it looks the size of a raw hamburger, you mist a section of your car with that detailing spray and you rub the clay on the paint. You'll be amazed at the weird crap that sticks to the clay. Now, of course, you are all set to get a-waxin'.

You wax using a wax that is rife with carnauba and not some crap you bought at [insert whatever mass market retailer you are not boycotting] that promises to make your car laser-proof or as rugged as an armadillo with dry skin. You smell it and it smells like tropical destination's tourist boards want you to think their beaches smell. You also need a couple of microfiber towels. In different colors. One is for wiping on the other for wiping off. You also have to keep refolding the "wipe on" towel if you are using a liquid wax. After the application, your car will look all hazy and then you wipe off. Your paint is now good-to-go.

Next come your tires. You don't use that crap with the Visigoth on the label that you can buy at [insert whatever mass market retailer you are not boycotting], because that looks like your tires just rolled in a puddle of Vick's Vap-O-Rub. You use the proper preservative loation and you also whip out the proper applicator. While you're down there, you spritz the wheelwells and undercarriage with Undercarriage Spray, to make cleaning said bits easier next time and to make 'em look all purty now.

Finally you lay your attention to the glass. In this case, it's OK to use the stuff you can buy at [insert whatever mass market retailer you are not boycotting], especially that stuff that repels water. You pply it much like you did the wax, only this tie you use the towelettes that pop up out of the canister and, when you've applied all that glass cleaner stuff, you use the dry towelette to wipe off.

Tired yet? Me too.

But we have the interior!

Ths part is easy and a child of 7 or 8 may easily be pressed into service. You get your special vacuum cleaner (the one your spouse won't let in the house because it's TOO LOUD and because last time you almost sucked the cat across the room) and vacuum the car mats, then the rest of the carpet THEN the folds and pleats of the seats. That done you take out your Foaming Leather Cleanser and your leather brush and lather up those seats. With a plain old cotton towel, wipe off. Now you are ready to apply the leather conditioner which you will have conveniently bought in the pop-up wipe configuration because by this point you're getting tired, it's getting late, it looks like rain and, frankly, you don't give a damn that this costs 3x what the thing costs if you just bought it by the gallon. So you condition the leather.

While you're at it, you do the same thing with the vinyl cleaner (only it doesn't foam) and the vinyl conditioner, which you have also gotten in the pop-up package. You put your car mats back in the car, put a towel on the driver's seat (you're soapy and sweaty and gross) and drive your weird Italian sports car back into the garage.

You may now take a shower, comfortable in the fact your car will look spiffing as you drive across the largest swamp in the USA, impressing (literally and figuratively) all of the insects contained thereat.

-Joke, clearly mental

* Including Gary Cooper's Duesenberg, T.E. Lawrence(of Arabia)'s Rolls-Royce and other historically significant cars.

** No pun intended


Posted by Joke at 2:00 AM

Friday, September 16, 2005
Pause the insanity!

More of what passes for conversations betwixt my dad and self:

[phone ringing noises]
Me: Hello?
Dad: I need you to help me run this.
Me: Run what?
Dad: Oh, good Lord. Here we go again.
Me: [pausing to remain composed] Um, Dad, it'd be a great help if we didn't start conversation in mid-paragraph. What are we talking about?
Dad: The software.
Me: Which software?
Dad: The one on the new computer.
Me: Wanna narrow it down for me?
Dad: It doesn't work on the new computer, it won't let me make any backups.
Me: Yeah, well, which software?
Dad: Financial Navigator.
Me: I've never worked with that one.
Dad: It's not letting me make backups.
Me: I don't know how to make it do that.
Dad: I try to back it up and it tells me the files are read-only!
Me: Change that.
Dad: It won't let you!!
Me: Well, Dad, you should have used your Peachtree Pro instead of Financial Navigator. After all, that's the one you recommended to every client you ever had. Financial Navigator is primitive and ancient and SO not-user-friendly.
Dad: That's not true.
Me: Then why can't you make backups or change files from read-only? Can you save the files in the network?
Dad: No. It doesn't let you access the network.
Me: Then how is that not primitive? That's why I don't use it.
Dad: I uninstalled version 8.1 and then reinstalled the earlier version, 7.5.
Me: Um...why on earth would you do that?
Dad: To see if that would work.
Me: But that can't POSSIBLY work! In fact, you probably made everything eleven times worse.
Dad: And NOW YOU TELL ME?
Me: Dad, I have a client meeting at first crack...I'll be there afterwards to see what I can do. Have you tried calling tech support?
Dad: You know those people all mumble.

-Joke


Posted by Joke at 8:07 AM

Wednesday, September 14, 2005
Top this



Badge keeps telling the world how insane her parents are. Well, guess what?

Can you believe this guy's dad (my grandpa) was a tailor and raving dandy? Me either.

-Joke


Posted by Joke at 3:29 PM

Monday, September 12, 2005
The Roomates (stolen from Badge)

In a manner similar to Miz Badge, I put in a stint in group living. Here are the people with whom I have had to share living space. (No, no real names given.)

At the tender age of 17, I found myself at a VERY large southern university that was light-years away from SoFla.

First up was S. He was a nice-enough Jewish kid from Long Island, NY and, other than having an unintelligible Noo Yawk accent and being, essentially, a Stalinist, he was a great guy and a good sax player. He was also addicted to pizza and would have that EVERY NIGHT for dinner, and sometimes I'd join him. (We knew better than to trust our luck to the cafeteria) S also had a serious Beatles fetish which, besides thinking that John Lennon was interchangeable with, say, Bob Dornan, he was OK. He joined me in our common hatred of Pepsi. In fact, we once drove across state lines to have dinner at a particular chain restaurant which served Coke (in State X) instead of the vile Pepsi stuff in the state in which we attended uni. However, listening to him rant about Sacco and Vanzetti and "hegemony" and "colonialism" wore verrrrrrry thin, very fast.

Next came J. This guy was, to me, the standard by which Lotharios ought be judged. By the middle of our sophomore year, he had slept with at least 30 different girls. He was impressive in his ability to pick up anyone he wished. His dad worked for A Major Airline and he flew for free all over the US. He never spent money on hotels, because he'd go into a bar, and within halfan hour he had a place for the night. This guy could seduce militant lesbians and, I fear, he probably did. He had a serious "Jersey" thing going on, with the black leather jacket and the Italian wiseguy persona that just made all the tumblers click open on so many hearts. He didn't care if I was in the room, he'd just go into the bathroom with the girl. There were occasions when I was the one to put necktie to doorknob and he was always interested not so much in what transpired, but how I was able to arrive at that Necktie Point. "Did you say her eyes were beautiful, or that she had beautiful eyes? Think! This is important."He was always looking for something that would help him further his batting average. His downfall as a roomate was my having to lie for him as to his whereabouts. The "If Janice calls, I'm at the library, if it's Wendy tell her I'll be there AFTER study hall, but if Linda calls..." got a bit taxing. When chicks started crying in my ear, that's when I knew this wouldn't work out. The fact he used to get ridiculously stoned the rare times he war girl-free was a bit off-putting. His sister, was insanely pretty, though, but he would have had me fed to the crabs off Cape May to have so much as looked at her.

After him came B. Probably the funniest guy I have ever met, and one who went through a SERIOUS bout of near-suicidal depression. Lucky me. He eventually got help and is now a Very Big Deal automotive journalist with a wonderful, cute wife. He was from Mississippi and was something of a rebel from what he perceived as that state's culture. Going to college was a start and so was not giving a damn about football. We clicked on the whole car thing. One day, his prized 1967 [collectible car name here] was run over by some Iranian exchange students in a rented panel truck. For some reason, calling persons of authority and explaining to them that Iranian exchange students had done the Monster Truck thing to his prized car brought about peals of laughter ("No, wait, I'm serious! Some Iranian guys in a gawdamned ren...shut up, this is serious! In a rented panel truck...dammit, hush!") instead of meaningful help. B had a serious flaw in that he was, for anti-redneck reasons, an absolute teetotaler. This caused problems.

Next up was P., who was the son of some prominent Massachussets legislator and had transferred from UMass at Amherst. He was hardcore prep. Prep in extremis...almost a caricature. He drank well, was relatively unobtrusive when you needed that, but would sling ethnic slurs like a Klansperson with Tourette's. He greeted me the first time we met with "Are there a lot of [ethnic slur] here?" He once got a zit on a Private Part and he insisted I attempt to diagnose whether this was VD or not. That finally sank him.

The next one was the guy I'll call Eagle. A very quiet, studious, kind Catholic Italian guy from Rhode Island who was on the track team and who lived and breathed running. The ONE time he got drunk, he blindsided me into the plaster. He collected alternative comics, rosaries and listened to "underground" bands from Boston's Combat Zone. Never seemed to have much luck with girls, my guess as to why being his rather prominent schnoz (his sneezes sounded like Barry White's foghorn), his impressive Rhode Island accent and his monobrow.

Last and greatest was DK. This guy was legendary. He was ridicuously preppy, scion of a particularly old Jamestown family who sneered at Mayflower-types as late arrivals and had an allowance that would have been considered a respectable starting salary for someone out of law or business school. He also looked like a young, clean cut Glenn Frey. What made him impressive was that he had neither the inclination nor the ability to censor his thoughts. He had a Lotto Prize of a trust fund coming to him upon graduation, and he found that rather liberating. He drank beer in class. He openly drank beer during tests. He drank from a bottle of Glenlivet as he went up to receive his diploma. He woud never sit in his assigned seat in class, opting for a folding lawn chair.

He took immense delight in goading campus progressives. When someone yelled at him "Free Mandela!" he replied "Can I have a Free Mandela for my roomate?" and he told our PoliSci professor--who had served in the Carter administration--"If you put your brain on a razor, it'd look like a pea rolling down a four lane highway." He was only passionate about cocktails, economics (he got me started on Bastiat and von Hayek and Friedman) and finding the ideal buttondown.

For being stinking rich, he hada very relaxed attitude to money. Whenever wewent out drinking, he had to rummage through his clothes for what he called "scrap currency" the odd $5 and $10s. He also hated R. the R.A. and once during a fire drill, R. kept pounding on the door for us to get out when we were good and hungover at 6am. Finally R. yelled, "you guys are going to be fined!"

"Fuck you!" yelled DK.

"I'm not kidding, you'll get fined a...a lot of money!"

"How much, you dick?"

"A lot! Like $75! Come out!"

At which point DK produced $100, he opened the door, threw out the cash and yelled "Keep the fucking change!"

What struck me the most about this guy was that, for all the bluster and obnoxiousness, he was pathologically loyal. He was incapable of letting a friend go through anything if he could help it. After graduation, he retired to Arizona, where he now restores and collects WW II aircraft.

Now you know.

-Joke


Posted by Joke at 10:28 PM

It's worse than I thought.

The car that sucks? Turns out it sucks even worse than I thought. Not only does it exhibit a remarkable suckiness, but it has begun--already!-- to hemorrhage (no, not merely bleed) cash. It literally has red ink shooting from every imaginable orifice. Not only does it serve as a wallet evacuation device, but frequent and repeated applications of cash don't ameliorate the problem. I fear I may already be "underwater" with this thing.

I've grown to hate it.

-Joke


Posted by Joke at 10:15 PM

Saturday, September 10, 2005
Once you go black...


Badge questioned my sanity on the matter of owning a black car w. a black interior in God's Sauna (i.e. SoFla). Oh, ye of little faith.

I have always had one for the other car, and now one for this one. And yes, I am RUTHLESS about always putting it on. Not only does it save the paint and interior, but it makes cooling down the car with the A/C a LOT easier, regardless how macho-man powerful your climate control is.

Get one of these, people.

-Joke, car geek


Posted by Joke at 10:48 PM

The triumph of hope over experience


We do not need to rehash the saga of the long-awaited car that ended up sucking. Its suckitude remains thorough, impressive and complete. So, um, how crazy am I to go and buy another car? Part of the Lessons Learned The Hard Way is not to go through eBay for the car purchasing thing UNLESS I can have the car mo' professionally looked over well prior to plunking down coin.

Anyway, a client of mine needs visiting up in NYC--usually he comes down here, escaping wintry annoyances--and while there I shall take the opportunity to peruse a car similar to the one that sucks. This car's owner promises it to be in pristine shape and he strikes me as being the same Henry V/Band of Brothers/OCD type of car guy I am. As opposed to the other guy who let the car sit, undriven, outside for months on end. This other car also has a far more attractive black-on-black (an all-black interior is the WAY rare and WAY desirable option) color scheme
, as opposed to the car that sucks, which is white with a black and tan interior to which I have never cottoned.

Also, the price of this car, albeit 35% higher than the one that sucks, seems to be a bigger bargain, since it won't nickel-and-dime my ass to death like the one that sucks which already has begun to spring financial leaks just to get it saleable in a reBay sort of way. I figure I can EASILY get half my money out of the car that sucks and, if it all works well, maybe even break even. Which would be cool.

Keep your collective fingers crossed.

-Joke


Posted by Joke at 6:19 PM

Friday, September 09, 2005
You know who you are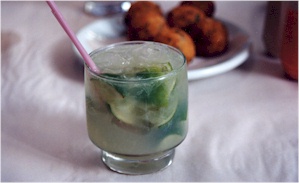 Caipirinha

1 lime sliced as thin as your patience will allow
1-2 tablespoons of sugar (superfine, ideally but NOT powdered!)
1.5 oz. cachaça (a/k/a "1st press rum", if you can't find these, use regular white rum--it will taste a little different--and then this drink becomes a caipirissima)
1/2 cup cracked ice

Place the lime and sugar in the bottom of a glass. Using the handle of a wooden spoon, crush and mash the limes into as fine a pulp as you can stand (you want to release not just the juice, but also the essential oils from the peel), making sure you have no visible bits of sugar left. Pour the liquor and ice. Stir well. Decorate a double old fashioned glass with a slice of lime. Basically, this is a limeade made with liquor instead of water.

REMEMBER...the acidity of the lime reallllllllllllllllllly masks the taste of the alcohol, so take it easy, Carmen Miranda.

-Joke


Posted by Joke at 5:35 PM

Now THAT's amore.



13 % Sam, 78 % Dino, and 28 % Franky!

Now you know how which Rat Pack member you would have been! "It's Frank's world, we just live in it!" "Jewish people don't sit in the back of the bus!" "I'll drink to that!"

My test tracked 3 variables How you compared to other people

your age and gender

:

You scored higher than 8% on Sam
You scored higher than 96% on Dino
You scored higher than 6% on Franky
Link: The which Rat Pack member are you Test written by DrMorbius on OkCupid Free Online Dating

Posted by Joke at 8:17 AM

Thursday, September 08, 2005
Somewhere between a rant and a whine

The SoFla area has many incomparable advantages over other, lesser, parts of the country. Used bookstores ain't one of them.

As is my wont, I like to go bloghopping, and one of my fave trails is to follow the links of people who are in love with the written word as much as I am. Often this leads to someone who has a link to a used bookstore (sometimes more!) which only heightens my pain that the one used bookstore we used to have is no more. Maybe they moved, maybe aliens abducted the two old ladies with the greying crewcuts, the 47 silver earrings and the Birks. I don't know.

So there you have it.

-Joke


Posted by Joke at 5:46 PM

Repeat offender

It's happened again. A pal of mine has notified me of the demise of an iMac. Sadly this is the same iMac which, if memory serves, had died and was, after much Dr. Frankenstein-ing, resurrected twice. So the casualties mount.

This brings up the number of such failures to my knowledge to 8 (this being the first "triple").

The handwriting is on the wall.

-Joke


Posted by Joke at 1:33 PM

Getting back to normal

Last night I managed to sit down and cook a proper meal for the 1st time in what seemed like epochs.

I had just been going over the most recent issue of Cook's Illustrated when I got an idea. In this issue they were going over less-common steaks and they mentioned the flatiron steak, also known as the top-blade steak (to those of you in other parts of the Anglosphere, you're on your own as re. names of these things), which reminded me that Willoughby & Schlesinger (in How To Cook Meat, IIRC) mentioned this steak as being the second tenderest, after the tenderloin BUT with the seriously beefy flavor of, say, flank. It's also surprisingly reasonable in price.


So I went to look for it at the butcher, and I see why it's less than common. It's a complete PITA to butcher. There are two ways to do it...if you just cut the whole thing crosswise, it's "officially" a top-blade steak and it has this serious-ass hunka connective tissue running through the whole length of the steak, this I was able to pick up for $3.99/lb at my very frou-frou butcher (within my very frou-frou Whole Foods-but-independent grocery store). If you take the whole chunk o' cow and remove the connective tissue first, you are left with what looks like a Personal Size Flank Steak, and that clocks in at $5.99/lb., still not unreasonable...this is the "official" Flatiron Steak.


Anyway, since I didn't have the time to stand in line to ask the butcher to cut it that way for me (especially with some lady who looked to have marched with Susan B. Anthony asking for flanken ribs cut in such a way that would have required a micrometer and three NASA logisticians) I grabbed the top-blade steaks that had just found their way in the case.

A pound is about 5-6 of these and, removing the connective tissue from 6 of them is no great shakes, and it leaves you with 10-12 very shish-kabob-able strips of beef. And this, dear reader is what I done did wit' 'em:




Joke's Vaguely Asian-ish Flatiron Steak


1 lb (550 gm, for you metric types) flat iron or (trimmed) top blade steaks
Sea salt and freshly ground black pepper, to taste
1 bok choy (radicchio will do, if you wanna go more Italian and less Asian-ish)
8 tablespoons soy sauce (I like San-J low-sodium--!--tamari best. 4-year old balsamic will do, if you wanna go more Italian and less Asian-ish)
1 chile, I like a red serrano (seeded, if you like) and finely chopped (if doing the Italian thing, use a pinch of red pepper flakes or a dab of Italian red pepper paste)
2 garlic clove, finely minced
1 lime, juiced (if doing the Italian thing, use lemon)
1 2"/5cm of ginger, peeled and smashed to a gazillion bits (if doing the Italian thing, use grated lemon peel)
Peanut oil with a dash (or two) of toasted sesame oil (if doing the Italian thing, use EVOO)

Season beef w. salt and pepper. On a very hot grill (or grill pan), cook your steak until done to LESS THAN your liking (I usually go for medium-rare, you do whatever). Plate (on a warmed platter) the beef and let it rest, since carryover cooking will bring it, gently, to your desired doneness.

In the meantime, steam your bok choy over salted boiling water until JUST tender (you don't want to lose that color or some of the texture). Plate the bok choy on individual plates. Slice the beef diagonally/thinly and place atop the bok choy, then douse with the juices, soy sauce and oil(s), sprinkle with the garlic, ginger, chile and lime juice.

Lick the plate when nobody is looking.

You're welcome, Internet!

-Joke


Posted by Joke at 9:33 AM

It's the little things...

...that. just. PISS. me. off.

Due to hurricane related events and cancellations, our "floating holidays" (the SoFla equivalent to days budgeted as "snow days") have been given the axe.

That is to say, if there had been no hurricane, there would be a Columbus Day, and all these ::cough, cough:: Teacher's Planning Days throughout the year. NOS's school was closed (no power) from Thu. 8/25 until yesterday and NTS's school will be closed (slight flood damage) until Monday.

So all these days have to be made up somewhere and it's these "floating holidays" that take it on the chin. Also taking it on the chin were our plans to go visit Poppy in New Hampshah, which has me so pyst it's not even funny.

-Joke


Posted by Joke at 9:16 AM

Sometimes happiness is delivered by the USPS

In addition to getting Oliverage from the lovely and gracious Badger, this week has brought waves of pleasant sensations via my mailbox.

As all of you know, or ought to, I am a serious Italophile. So yesterday I get two of my fave UK magazines AutoItalia and Italia! which are published by two different companies and have a different (albeit UK-centric*) foci. The former, naturally, concerns cars and, by extension, concerns very few of the 188 of you, but it always has cool articles and details on rare and not-so-rare Italian cars.

HERMES SCARVES! VODKA! (Sorry, I had to shout that out to keep most of you from dozing)

The other one is a magazine for the traveler/expat (full- or part-time) detailing life in Italy and where to buy or rent what, as well as what there is to do. For the longest time, I have had a serious jones for buying place in Italy and doing some of my summering there. Not anything deranged like buying a 900 year old Etruscan farmhouse three hours from the nearest human settlement, and then restoring it myself; rather, getting something like a townhouse on the outskirts of a major city (Rome, for all that Rome-ness and pretty nice food and great wine; or Milan, for the modern-ness AND the Alfa Romeo museum in nearby Arese; or Bologna for all the yummy food)

LOBSTER! COCKTAILS! SHOPPING! (Sorry, I had to do that again to keep most of you from fading on me)

Anyway, this magazine is great because it gives you pretty good "on-the-ground" report of the various options you might have in the various places, as well as the great sights to see in cities you may have never considered (Turin, or Vicenza, for starters) and tells you of great hotels, spas, wineries and all that. I think if more people read this magazine, sales of Prozac would plummet. Reading BOTH magazines has led me to fantasize about (and VERY SERIOUSLY consider) doing this.

Another arrival is my new food magazine called Chow. This is to, say, Cook's Illustrated what the Green Berets are to the Army. The articles are hipper, there is a FAR greater focus on cocktails and beverages and "food culture" and in reverse-engineering recipes, whereas CI is more about testing different ingredients and gear (and, without advertising!) and developing--as opposed to deconstructing and reconstructing--foolproof recipes. Also, Chow has that hey-there-babe, slick-o-rama West Coast vibe, whereas CI has that press-on-regardless-we're-not-fucking-around East Coast thing...which only makes sense, since Chow is out of SF and CI is out of Bahstahn. I love them both and, since they only have 6 issues a year each, I just hope they have the good sense to stagger the mailings, so every month my mailbox is crammed to the rafters with yummy goodness.

-Joke

* Which is OK, because I am also an Anglophile.


Posted by Joke at 8:30 AM

Wednesday, September 07, 2005
Mo' meme madness

Swiped from BabelBabe.

Number of books I have owned:
I'd guess about two thousand. Half fiction and half (duh!) nonfiction, none catalogued.

Last book I bought:
The Way The World Works, by Jude Wanniski

Last book I completed:
Driving Over Lemons: An Optimist In Andalucia by Chris Stewart

Five books that mean a lot to me: (in no order)
1. The Road to Serfdom– Friedrich von Hayek
2. Nearer, My God – Wm. F. Buckley, Jr.
3. Code of the Woosters – P.G. Wodehouse
4. Westward, Ha! – S.J. Perelman
5. The Compleat Alice - Lewis Carroll

What are you currently reading?
1. Happy Days with the Naked Chef – Jamie Oliver (waves to Badger!)
2. Novus Ordo Seclorum - Forrest McDonald
3. October issue of Octane Magazine
4. I Want to Buy a Vowel : A Novel of Illegal Alienation - John Welter
5. WSJ website

To which 5 bloggers are you passing this on?
The usual suspects


Posted by Joke at 3:29 PM

In other news

We got back from WDW on Monday, having had a swell time. As usual, my touring plan allowed us to ride EVERYTHING without a moment wasted in line, we had (mostly) yummy food, we were able to wrap up each park by 2pm and more or less left pretty refreshed.

The disturbing thing is that I mangled my left middle finger when I was slamming shut the rear door to the minivan after buckling up NTS. As I was pulling on the door w. my right hand, my left hand was bracing against the frame and, it having rained, my hand slipped and WHACK.

O

M

F

G

I was seeing dead relatives, I gave the boys new vocabulary lessons on the spot and I was high from the quart of endorphins flying out of my assorted glands.

I got off (relatively) easy, since it caught me between the knuckles and the bone did not break. But my finger was good and purple within minutes and very swollen. And throbbing. And bleeding some. TFBIM went to reach for ice, but, bless her, she is someone congenitally incapable of moving quickly. I kinda feel bad that I sarcastically said: "No, really, take your time."

It still hurts. Now it's not as swollen and far less purple, but I still can't grip a damn thing with my left hand.

Blah.

-Joke


Posted by Joke at 8:33 AM

Tuesday, September 06, 2005
Nerdier than thou



(Picking up the gauntlet thrown down by the lovely and gracious Poppy)



Pure Nerd
69 % Nerd, 26% Geek, 13% Dork



For The Record:

A Nerd is someone who is passionate about learning/being smart/academia.
A Geek is someone who is passionate about some particular area or subject, often an obscure or difficult one.
A Dork is someone who has difficulty with common social expectations/interactions.
You scored better than half in Nerd, earning you the title of: Pure Nerd.

The times, they are a-changing. It used to be that being exceptionally smart led to being unpopular, which would ultimately lead to picking up all of the traits and tendences associated with the "dork." No-longer. Being smart isn't as socially crippling as it once was, and even more so as you get older: eventually being a Pure Nerd will likely be replaced with the following label: Purely Successful.

Congratulations!


Also, you might want to check out some of my other tests if you're interested in any of the following:

Buffy the Vampire Slayer

Professional Wrestling

Love & Sexuality

America/Politics

Thanks Again! -- THE NERD? GEEK? OR DORK? TEST













My test tracked 3 variables How you compared to other people your age and gender:




| | |
| --- | --- |
| | You scored higher than 66% on nerdiness |
| | You scored higher than 26% on geekosity |
| | You scored higher than 6% on dork points |



Posted by Joke at 1:06 PM

In which Joke finally blows a gasket.

God knows I hate bringing up politics in this blog. God knows I think we should be infinitely more worried about the dying and the destitute than about seeking mean advantage of the suffering of others. But, frankly, I have had it up to HERE with a media corps that is, on aggregate, as useful as a dead rat in a tampon factory.

And personally, I think I pretty much sum it up here:

The uneasy paradox which so many live with in this country--of having free and unfettered news media, while at the same time being saddled with such a media's wanton disregard for readily provable truth borne of either malicius bias or a lazy slothfulness that borders on willful journalistic malpractice--has reached a crisis point this week.

But then, I'm such a libertarian-constitutionalist Red State Conservative.

So if you think the poverty-stricken/elderly/diabetic people in New Orleans should have gotten off their lazy butts and voted for, you know, like a responsible mayor or governor or something who would actually use their public transportation system to take them far away from Katrina, don't click here.

And, to quote Forrest Gump: "That's all I've gotta say about that."

-Joke


Posted by Joke at 11:36 AM

Now, um, where were we?

Seriously mad props to Badger, for sending me the Jamie Oliver books. Your potables are TX bound.

After a kind of aggravating week and a long trip to--and back from--WDW, it was swell to get home to find that I had received the latest issues of Octane, Drinks and the Oliverage from Badger.

I was VERY much gladdened to see same.

That is all.

-Joke


Posted by Joke at 11:33 AM

Saturday, September 03, 2005
A strange instance of common ground

A strange thing happened while I was reading Poppy's latest blog entry. Anyone who knows us both will also know that, while we're the very bestestest* of pals, we don't often see eye to eye on matters of politics. She's anti-widget and pro-gizmo and I'm the opposite.

But today she nailed it and I must agree.

Is THIS the time to find out who's at fault? Is THIS the time to remind us of our divisions?

While bloghopping I read a sickening admission. I won't out the vile toad who posted it, because karma will take care of this imbecile. The Cliffs Notes of the blog entry was that our blogger was leaving an area devastated by the hurricane. By the side of the road was a car that had broken down, outside is a woman holding a toddler. The blogger slows down with the initial intent to help...until this examplar of human kindness notices the broken down car had a bumper sticker for the candidate this blogger had vehemently opposed. So our hero left the woman and toddler stranded.

Honestly, I can't read any blogs other than my pals' blogs for a good, long while because, frankly, I'm about to blow a gasket reading things like this. Yes, I have strong opinions as to who is at fault and they may not coincide with yours. It will prove to be no shock that I REALLY disagree with the things mentioned in that snippet. I'm sure I could sit here and type for hours citing documentation, experts and so forth to show the myriad errors or bolster my assertions. But I won't. Because doing this sort of thing is corrosive to comity, it takes the focus away from doing the noble and charitable and focuses it on the crass pursuit of political advantage at best, and on erecting yet more palisades of rancor between people. It is reprehensible because these things have the net result not of feeding anyone, not of airlifting any food in or evacuees out. It it despicable because it is navel-gazing of the most vindictive sort, fostering anger rather than charity, enmity rather than kindness, wrath rather than hope.

A time for reckoning will come soon enough. when we will see whose account is true, who did and didn't do what. I can wait.

But the people axle-deep through this don't have the luxury of time to wait for the belligerent spasms and its aftershocks and the subsequent repercussions to pass. They are aching and shattered and crying and dying now, not choosing t do so later when it will be more convenient for those who place even the slightest importance on working out their lust for blame before focusing more thoroughly on the tragedy at hand.

Don't be a useless fuck. Let the better angels of your nature drive a while. Remember, if you're not part of the solution, you're part of the problem.

-Joke

* This is the masterpiece of understatement.


Posted by Joke at 4:07 PM

Friday, September 02, 2005
Tag, I'm it

Seven Things I Plan to do Before I Die
1. Drive the Mille Miglia
2. Become the arbiter of society
3. Become a pilot
4. Start the must-attend charitable event on the calendar
5. Publish
6. Get to even par
7. See my abdominals once more

Seven Things I Can Do
1. Get from Point A to Point B much faster than anyone could have dared to hope
2. Keep my mouth shut
3. Explain myself to people in calm, reasoned tones, using ample evidence and easy-to-follow logic when I really just want to scream and call them sniveling fucktards
4. Cook
5. Keep on keeping on
6. Avoid reading things which I find stupid
7. Write

Seven Things I Cannot Do
1. Keep my blood pressure down as I keep my mouth shut
2. Keep my blood pressure down as I explain myself to people in calm, reasoned tones, using ample evidence and easy-to-follow logic when I really just want to scream and call them sniveling fucktards
3. Leave an email or a letter unanswered
4. Let someone else have the last word
5. Avoid reading things which I find infuriating
6. Understand why people aren't horrified by cold winters
7. Overcome my rampant feelings of superiority

Seven Things that Attract Me to the Opposite Sex
1. Brains
2. Wit
3. Elegance
4. Erudition
5. Legginess
6. Silky, shiny hair
7. Naughtiness which would stun a rhino

Seven Things I Say Most Often
1. "I SAID time for dinner!"
2. "I can't find my ... "
3. "This is NOT that complicated"
4. "Welcome to MY world."
5. "But then again, nobody listens to me."
6. "Freddled gruntbuggly"
7. "Words mean things."

Seven Celebrity Crushes
1. Bonnie Hunt
2. Giada di Laurentiis
3. Ginger Rogers
4. Bridget Fonda
5. Julia Ormond
6. Rachael Harris
7. Wendie Malick

I hereby tag any and all readers who have gone here and done something useful for humanity.

-Joke


Posted by Joke at 11:32 PM

Thursday, September 01, 2005
At least I'm not alone.

In perusing the WSJ, I ran into this piece by Peggy Noonan, whom I consider the single finest writer in America on the matter of current affairs. Here is part of what she wrote, concerning the matter of looting. See if you catch any similarities to what has already been written by another brilliant thinker. :-)

As for the tragic piggism that is taking place on the streets of New Orleans, it is not unbelievable but it is unforgivable, and I hope the looters are shot. A hurricane cannot rob a great city of its spirit, but a vicious citizenry can. A bad time with Mother Nature can leave you digging out for a long time, but a bad turn in human behavior frays and tears all the ties that truly bind human beings--trust, confidence, mutual regard, belief in the essential goodness of one's fellow citizens.

There seems to be some confusion in terms of terminology on TV. People with no food and water who are walking into supermarkets and taking food and water off the shelves are not criminal, they are sane. They are not looters, they are people who are attempting to survive; they are taking the basics of survival off shelves in stores where there isn't even anyone at the cash register.

Looters are not looking to survive; they're looking to take advantage of the weakness of others. They are predators. They're taking not what they need but what they want. They are breaking into stores in New Orleans and elsewhere and stealing flat screen TVs and jewelry, guns and CD players. They are breaking into homes and taking what those who have fled trustingly left behind. In Biloxi, Miss., looters went from shop to shop. "People are just casually walking in and filling up garbage bags and walking off like they're Santa Claus," the owner of a Super 8 Motel told the London Times. On CNN, producer Kim Siegel reported in the middle of the afternoon from Canal Street in New Orleans that looters were taking "everything they can."

If this part of the story grows--if cities on the gulf come to seem like some combination of Dodge [City] and the Barbarian invasion--it's going to be bad for our country. One of the things that keeps us together, and that lets this great lumbering nation move forward each day, is the sense that we will be decent and brave in times of crisis, that the fabric holds, that under duress it is American heroism and altruism that take hold and not base instincts born of irresponsibility, immaturity and greed.

We had a bad time in the 1960s, and in the New York blackout in the '70s, and in the Los Angeles riots in the '90s. But the whole story of our last national crisis, 9/11, was courage--among the passersby, among the firemen, among those who walked down there stairs slowly to help a less able colleague, among those who fought their way past the flames in the Pentagon to get people out. And it gave us quite a sense of who we are as a people. It gave us a lot of renewed pride.

If New Orleans damages that sense, it's going to be painful to face. It's going to be damaging to the national spirit. More damaging even than a hurricane, even than the worst in decades.
I wonder if the cruel and stupid young people who are doing the looting know the power they have to damage their country.

I wonder, if they knew, if they'd stop it.

You can find the whole piece at the WSJ's opinion site.

A lot of hypotheses have been floated on why the looting (the real looting, not just grabbing food from a grocery store shelf) is taking place. Some people have posited that a consumerist/materialistic society has "brainwashed" (I hate that word, by-the-by) people into acquiring "stuff" by whatever means possible. Some imbeciles have suggested that "of course there's going to be looting, those people are [insert convenient slur here]."

I don't hold with that. I believe passionately in free will and the equality of people of all colors and nationalities. Deciding to shoot at a rescue helicopter is a deliberate choice. Storming the Children's Hospital is not something you are brainwashed into doing. Raping women as targets of opportunity is not confined to one subset of people or another. Human predators visiting manifest evil upon the innocent is not a product of your environment or upbringing, but of a dysfunctional--or utterly lacking--moral compass and a sense of impunity.

This putrefying episode in the Katrina saga reminds me of Thomas Jefferson's quote: "I tremble for my country, when I reflect God is just."

Those of us far removed from the swirl of this catastrophe, by distance or circumstance, have an opportunity to strike a few kind blows for kindness, humanity and civilization. Do so. To find out how you can help, CLICK HERE.

-Joke


Posted by Joke at 11:15 PM

Assorted Hurricane-ness

Miscellaneous notes:

1- I'm still not moving. Hurricane Wilbur or Hurricane Matilda or Hurricane Augustus may move me, but I'm staying put until such a time as Global Warming has eliminated winters in New Hampshire or put a coastline on Arizona.

2- Looting. This pisses me off. It can semi-sort-of-kinda excuse people looting for the purposes of getting sustenance. Human life is more important than that. I got it. Looting jewelry stores? Stealing big screen TVs? Looting NURSING HOMES? HOSPITALS? Marauding a city in agony with the express intent to steal whatever you can pry off? That's not looting...that's pillaging. And the full weight of the justice system (what's left--after stupid-ass jury awards--of it anyway) should slam down on the bestial savages who prey on the innocent. There are some folks who are annoyed that when some media reports show looting by black people it is called (properly) looting, but when it's white people it's called (IMproperly) "finding" or "helping themselves" to food* and stuff. Looting is looting, folks. It may be under some dire circumstances (i.e. food and you're starving) excusable, but it is not redefinable. It's false that White Men Can't Loot.

3- Give this kid in Biloxi the Medal of Freedom. God freakin' bless you, Phillip Bullard, the world could use a billion more like you.

4- Donate, donate, donate. Help out however you can. Remember there are a gazillion people, children of the same God, who have been left with nothing. Squat. Zip. Jack shit. One day this might be you or me and I don't want to have karma on the wrong side of the ledger.

-Joke

* Mind you, I haven't taken an assessment of how many pictures/reports of which racial groups are labeled which way, and what percentage says one thing or another. My point is that they should ALL be uniform in their coverage.


Posted by Joke at 9:10 AM