Earth-shattering, life-altering discovery du jour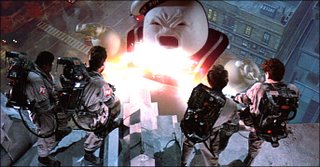 The most excellent
Suse
has clued me into something so simple, so basic and yet so revelatory that it has changed the way I do things.
Basically it's a new method of roasting/toasting marshmallows. Normally, you'd impale the marshmallow in question, put it over a convenient bonfire (open flame or source of heat will suffice) allow the outside to reach the level of gooey doneness one desires in a cooked marshmallow interior and enjoy it the way you'd enjoy slightly carbonized, sweetened magma.
Suse's method--and here comes the MacArthur Grant* part--is that
you peel off the part that is toasted to your liking and then you put it back to toast the newly revealed as-yet-uncooked, former interior, and repeat
. Basically, treating the marshmallow as you would
raclette
.
This, Internet, is unbridled genius, right up there with inventing the bath "sheet" and air conditioning. I don't impress easily, but this has left me wowed. I dunno if this is standard marshmallow procedure among our Australian cousins. If it is, I'm sorry, but Suse shall get all the credit. Although I dimly remember reading she's originally from England, and perhaps that's how they do it there. Still, Suse's place in the pantheon of cool cooking invention people is fixed, and, quite frankly, to Hell with whoever invented this if it wasn't Suse. As far as I care, it's Suse's doing entirely. I will not hear a word against her, nor will I entertain any outbursts of modesty on her part.
Now, while I'm dead-certain this process is utterly brilliant with any ol' marshmallow, it only makes sense to shift your paradigm to a new beat if you mean to do it properly. That is, use a kick-@$$ marshmallow. My
personal favorite
is
Tiny Trapeze Vanilla Marshmallows
and I am sitting here going bonkers with anticipation.
If it works out well, I may even go so far as to make my own marshmallows.
Can you tell I'm happy?
-J.
* That's the money you unexpectedly get for being a genius. You can't apply for it, you can't ask for it, you never know who it's really from and most people never find out who gets the money. But it's HUGE money and it goes to brilliant people. Usually.