Consolation Prize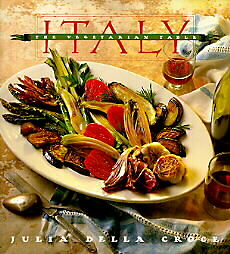 In an effort to goose things up AND clear my shelves of duplicate titles, etc., I hereby announce the consolation prize (for the person who makes up the best answers to the questions on the quiz (see previous post).
This is a duplicate of one of my favorite cookbooks:
Italy by Julia Della Croce
. The recipes are all fresh, authentically Italian (as opposed to Italian-American which is a somewhat different thing) cookbook, filled with lots of regional favorites, lighter and fresher recipes and will prove the sort of thing that will have you sprinting for the nearest farmers market.
The author is a former contributor to
Cook's Illustrated
, thereby earning my instant respect and admiration. I can vouch for systematically making every recipe in this book.
Because I am a Hell of a guy, I'll send you the version which I have studiously never splattered with EVOO, tomato juice or balsamic vinegar. Shipping's on me, too.
So, have at it.
Your pal,
-J.